Do you sometimes suffer from…
Excess gas and bloating after meals?
Heartburn or acid reflux?
Elimination issues?
In today's hectic world, sometimes our 'grab-n-go' dietary choices and 'off-the-charts' stress levels can reek havoc on our digestive tracts. However, the assimilation and elimination of food is a huge part of our lives. And when it's an uncomfortable experience 'on either end,' it can make life less than enjoyable! But never fear!
Help is Here!
After receiving so many requests from people seeking relief from digestive issues, I began researching natural, herbal compounds that have long been known to aid digestion and relieve uncomfortable symptoms, and now you can benefit from what I found out!
I've formulated an herbal remedy to…
Soothe digestive upset
Aid digestion
Relieve gas and bloating*
______________________________________________________________________________________________
I'm Deserie Valloreo, a Certified Clinical Herbalist and Natural Health Advisor. I have combined my own experience with my knowledge of herbal remedies to develop an all-natural, great-tasting herbal tea that reduces gas and bloating, and soothes digestive upset, such as acid reflux.
The soothing herbs I've selected for Happy Tummy Herbal Tea are:
Chamomile calms pain by reducing nerve excitability
Marshmallow Root is a soothing anti-inflammatory
Catnip relieves cramping and many other gastrointestinal disorders
Fennel prevents and relieves gas
Plantain eases the bowels and breaks down food particles
______________________________________________________________________________________________
Happy Tummy is also available as an herbal extract taken orally by dropper. The extract contains these digestion-aiding ingredients:
 Kosher-certified vegetable glycerin, purified water, catnip leaf/stem, meadowsweet leaf, fennel seed, licorice root, natural flavor
Place your order for Happy Tummy today and receive a free, stainless steel Tea Infuser (Limited Time Offer)
Happy Tummy Organic Herbal Tea 5 oz. - $15.00
Happy TummyLiquid Herbal Extract 2 oz. – $25.00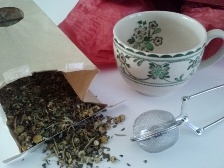 It's Simple and All-Natural
Preparing Happy Tummy Herbal Tea is easy! For hot tea, add 1-2 tsp. of tea per cup of boiled water, cover and steep 5-10 minutes, strain and drink 1-3 cups a day. For chilled tea, make a few quarts at a time and store it in your fridge. Fill your water bottle with Happy Tummy Herbal Tea and enjoy it throughout the day!
It's Effective and Tastes Great
You have finally found a natural solution that effectively addresses your digestion issues and is a pleasure to drink! All by hydrating and nourishing your body with nature's remedy — herbs.
Don't let an upset tummy keep you from living the best life you can! Order today!
Happy Tummy Organic Herbal Tea 5 oz. - $15.00
Happy Tummy Liquid Herbal Extract 2 oz. – $25.00
Free Tea Infuser available while supplies last…hurry, don't miss your free gift!
* These statements have not been evaluated by the FDA. This product is not intended to diagnose, treat, cure or prevent any disease.