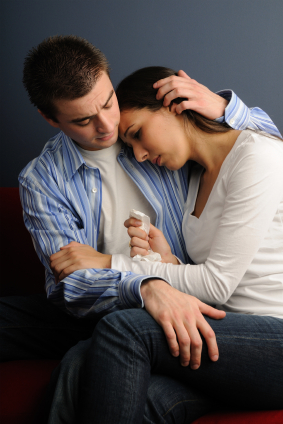 Grief is a strong, sometimes overwhelming emotion for people. These past few days I have consoled many distraught friends, tried to avoid the heart-wrenching media coverage and observed many angry posts on Facebook about the Sandy Hook Elementary shootings.
Grief drags us through many difficult emotions and it may seem like the pain and sadness will never let up. While there is no cure for grief, there are healthy ways to cope with the pain. There are natural remedies that can help "take the edge off," allowing you to clear your head and focus on life's responsibilities, despite being so sad. I thought I would share some natural remedies just in case you or anyone you love is also experiencing grief, shock, or depression. They're very inexpensive, and they're worth a try.
Millions of people around the world use St. John's wort for depression and grief. St. John's wort is continually being studied to validate its mood-improving benefits. St. John's wort is most often taken in liquid or pill form. The dried herb may also be used as a tea.
Studies have shown that the use of St. John's wort is just as effective as tricyclic antidepressants and selective serotonin reuptake inhibitors, or SSRIs, according to MayoClinic.com.
Most people can tolerate St. John's wort for one to three months without experiencing any adverse health reactions. However, it should be avoided if you are pregnant or taking anti-depressants. St John's wort can cause photo-sensitivity so avoiding sun exposure is recommended.
Nervine and antispasmodic herbs can be helpful; they can help "gentle" or ease the acute grief that a person might be experiencing by providing nervous system support during times of heartbreak and loss. Lemon balm, or Melissa officinalis, is a good choice because it does not cause drowsiness like many other nervines. Most common forms of Lemon Balm are tincture or tea.
Flower essences are a form of vibrational or energetic medicine first researched by Dr. Edward Bach, who discovered that wildflowers suspended in water and preserved in alcohol contained healing energies, especially for emotional disorders. And Dr. Bach believed that emotional disorders were the root of all physical illnesses. The most famous flower essence is probably Bach's Rescue Remedy, which is a combination of 5 different flower essences. Rescue Remedy is particularly good for calming and grounding in stressful situations, i.e., if you've just learned of the death of a loved one. It helps us relieve tension, get focused, and relax.
Aromatherapy is the therapeutic use of plant-derived, aromatic essential oils to promote physical and psychological well-being. Neroli (Citrus aurantium var. amara) is an excellent essential oil for times of sorrow (it is an antidepressant and sedative). You can diffuse this oil to lift the mood, or wear a drop on your chest. If pure Neroli is too expensive, you can also get the hydrosol, often called Orange Flower Water, and use it as a spray.
Although there is not cure for grief, it is good to know that nature offers options to help us get through this type of emotional pain.