Burn away excess body fat!
Are you carrying extra weight that makes you feel insecure?
Does your busy schedule keep you from exercising?
Are tempting snacks and treats at the office too much to resist?
I've been there and know how frustrating it is to have my environment working against my efforts to lose or maintain a healthy body weight.
Don't Give Up!
I didn't. Instead, I went to work on a solution for myself. And now, you, too, can benefit from what I discovered.
What if I told you I found a secret to help you…
Boost your metabolism?
Fight food cravings?
Reduce your appetite?*
______________________________________________________________________________________________
I'm Deserie Valloreo, a Certified Clinical Herbalist and Natural Health Advisor. I have formulated an all-natural, herbal tea that makes losing weight simple and delicious!
I have combined my own experience with my knowledge of herbal remedies to develop an all-natural, great-tasting herbal tea that actually gets your metabolic furnace fired up!
With my Slimmer You Herbal Tea you can drink yourself thin!
Slimmer You Herbal Tea formula contains Nettle and Alfalfa leaf which are high in important vitamins and minerals that provide the necessary nourishment for your body to keep you feeling satisfied.
In addition, Slimmer You Herbal Tea contains the herb Yerba Mate. This herb contains over 250 known natural compounds that alleviate fatigue, suppress appetite, stimulate body and mind, and boost metabolism making this herb ideal in eliminating unwanted fat.
______________________________________________________________________________________________
Slimmer You is also available as an herbal extract taken orally by dropper. The extract contains these fat-burning ingredients:
Kosher certified vegetable glycerin, purified water, bladderwrack, chickweed lf/stm/flwr, stinging nettle leaf, black walnut hull, mate' leaf, chicory root, fennel seed, English lavender flower, basil leaf, licorice root, stevia leaf.
Place your order for Slimmer You today and receive a free, stainless steel Tea Infuser (Limited Time Offer)
Slimmer You Organic Herbal Tea 7 oz. - $15.00
Slimmer You Liquid Herbal Extract 2 oz. – $25.00
See what others are saying about Slimmer You Herbal Tea:
"I started drinking the Slimmer You tea and was amazed at how it kept me from feeling hungry and craving sweets so I could lose weight. My friends starting asking what I was doing and now they want me to order the tea for them! Thank you so much for making it easy for me to lose these unwanted pounds." – Terri
Slimmer You Herbal Tea also contains:
Dandelion leaf acts as a gentle diuretic, laxative, and digestive aid. It enhances fat metabolism; removes fatty acids and cholesterol from the bloodstream before they stored in fat cells, and restores minerals.
Cinnamon creates a thermogenic burn. It is cinnamon's effect on blood sugar that makes it a potential help against obesity and insulin resistance.
Ginger increases the pH of stomach acid, reducing its acidity, lowering the rate of gastric secretions, and increasing digestive enzyme activity. It is also said to speed up metabolism helping to burn fat
Fennel promotes a feeling of fullness and satisfaction. It also prevents gas and bloating and freshens your breath.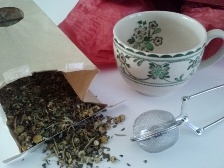 It's Simple and All-Natural
Preparing Slimmer You Herbal Tea is easy! For hot tea, add 1-2 tsp. of tea per cup of boiled water, cover and steep 5-10 minutes, strain and drink 1-3 cups a day. For chilled tea, make a few quarts at a time and store it in your fridge. Fill your water bottle with Slimmer You Herbal Tea and enjoy it throughout the day!
It's Effective and Tastes Great
You have finally found the answer to a weight-loss solution that works and is a pleasure to drink! Lose those extra pounds while hydrating and nourishing your body with nature's remedy — herbs.
Don't let that extra weight keep you from living the best life you can!
Order today!
Slimmer You Organic Herbal Tea 7 oz. - $15.00
Slimmer You Liquid Herbal Extract 2 oz. – $25.00
Free Tea Infuser available while supplies last…hurry, don't miss your free gift!
* These statements have not been evaluated by the FDA. This product is not intended to diagnose, treat, cure or prevent any disease.