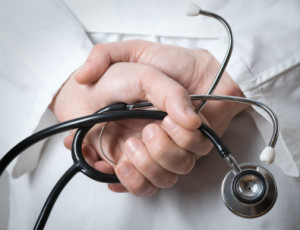 Up until 5 years ago, I worked a corporate job and had great health insurance.  Not finding much value in what the insurance-supported medical system had to offer, I rarely went to the doctor.  However, there were times when they basically forced me to make an office visit if I wanted to continue taking my prescription.  Thankfully that era of my life is over.
I have been to the doctor only once in the last 5 years.  Not having health insurance, I did not fit into their normal protocol and thus they made me feel somewhat like an outcast.  I explained to the Nurse Practitioner (NP) that I did not want any tests done that were not specific and necessary to diagnosing my issue.  She attempted to explain how the tests would be submitted under a certain code, but the lab may record it under another code depending on the results (I think) and difference in cost was about $50 for what sounded like the same test.  She also referred me to Planned Parenthood.
The NP gave me a preliminary diagnosis, I paid $132 for the appointment (even though I only saw the NP, not the doctor), and was given a prescription.
When I went to fill the prescription she gave me, I was informed the cost was $100.  However, they offered a special discount program for the uninsured.  The discount on my initial prescription covered the cost of the fee to join the program, so I went with it even though I was fairly certain it would be a number of years before I would get another prescription.
A few weeks later I received the bill from the lab for $96 (the higher of the 2 amounts told to me by the NP).  The bill did not give any indication of what tests were performed nor the results. This made me feel like I was paying for absolutely nothing.  I called the doctor's office to inquire about the results.  They informed me I would need to make an appointment to come in and discuss the results.  Really? And pay another $132?  I don't think so. Total cost for this doctor visit: $328.
Even though I do as much as I can to take care of my health and well-being, experiences like this leave me feeling frustrated and powerless. I am so thankful that I am able to handle most health concerns on my own and rarely feel the need to involve the doctors, insurance and pharmaceutical companies.  I am even more thankful to have the opportunity to teach others how they too can take control of their health. Through my classes and workshops I am able to help people by teaching them natural ways to address things like high blood pressure, arthritis, acid reflux, insomnia and more.  This results in less doctor visits and prescriptions and more money in your wallet.
My next workshop, Using Herbs As Medicine, will be offered on May 26th, 1-4pm at St Petersburg Yoga, $35 in advance, $40 at the door.  I will teach you which herbs you can use and how to use them to address common health concerns.
To learn more about the classes I offer, please visit my website calendar and if you are not already subscribed, subscribe to my educational newsletter to receive notifications of upcoming classes and workshops.