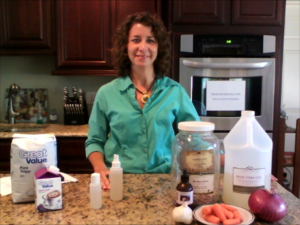 Join Deserie as she guides you and provides instruction and tools needed for the natural care of yourself and your home, family and pets.
Feel confident and excited about providing a safer and healthier way of life for yourself and your family.
This comprehensive online course includes:
Instruction and tools needed for the beginner to address common health and home needs using natural remedies.
Online Classes – each class includes a downloadable .pdf file and video.
Enroll anytime, learn at your own pace
What you will receive during your participation in this program:
Individualized Mentorship as  you work through the lessons
Exercises on how to incorporate  natural living and remedies into your daily life
Terminology Related to Natural Home Remedies
Making Herbal Medicine – techniques and usage
Natural methods for addressing common health and home needs
Virtual classes via your computer
Resource suggestions for continued study
Membership in a natural living discussion group
Certificate of Completion when you have completed all of the lessons
Course Objectives:
The goal of the course is for participants to become familiar with natural home remedies and incorporate them into daily life.  Participants will gain hands on experience  making simple remedies at home. Participants will have the opportunity to make  a home remedy kit that they can continue to build on over time. While it is not  required that participants experiment with all remedies covered during the course, they will be expected to make or use at least 3 remedies during the 12  week course and report back on their experience.
Introduction – Overview of the course materials, tools and how to get the most from this course.
Lesson 1 – Introduction to Self-Healing – Gain an understanding of various methods of self-healing.
Lesson 2 – Relieving Pain & Inflammation – Identify and understand how to use natural analgesics, anti-spasmodics, and anti-inflammatory remedies to relieve pain and inflammation.
Lesson 3 – Prevent & Eliminate Infection – This lesson will guide you in identifying and using natural anti-microbials to boost the immune-system and prevent and eliminate infection.
Lesson 4 – Making Herbal Medicine Part I – Learn the proper way to make and use herbal infusions and decoctions. Includes guidance on herbal soaks, compresses, and poultices.
Lesson 5 – Making Herbal Medicine Part II – This lesson will guide you through making your own herbal infused oils and salves. Step by step instructions will be provided.
Lesson 6 – Making Herbal Medicine Part III – Step-by-step instruction on making your own herbal tinctures (liquid extracts). Dosage guidelines are also included.
Lesson 7 – Stocking Your Home Remedy Kit – Information and guidelines on choosing items for your natural home remedy kit.
Lesson 8 – Natural Remedies for the Home – Learn natural remedies for the home including various types of cleaners, drain openers, air fresheners, and pest control.
Lesson 9 – Natural Remedies for Pets – This lesson includes instruction and information on natural home remedies for common pet ailments including fleas, parasites, skin ailments, digestive ailments, anxiety, infection, and minor injuries.
Lesson 10 – Natural Beauty – Receive guidance and instruction on natural ways to care for your skin, hair, nails and more. Includes step-by-step instruction on making your own bodycare products.
2 Convenient Payment Options
Installment plan
Pay the full amount and receive 10% off the purchase price and pay only $120.00