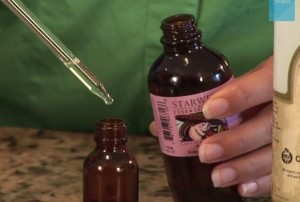 Acetylcholine is an important brain neurotransmitter. It helps the nerve impulses get to the brain.
Alzheimer's is related to the destruction of Acetylcholine, so it can't do it's job in the brain.
Many members of the mint family may be able to help keep Alzheimer's at bay.
Rosemary in particular is known as the herb of remembrance. It has a long history in herbalism as a memory aroma.
In this video, Deserie shows us how to make a Rosemary Scalp Massage oil.

Aromatherapy Basics : Aromatherapy & Alzheimer's

Rosemary and other members of the mint family are also excellent antioxidants.
How to Make a Rosemary Scalp Massage Oil
Add a carrier vegetable oil to a small bottle. safflower oil is an excellent choice.
Add a few drops of rosemary.
You can massage a bit of this blend to your scalp.
I'm going to try this just to help my memory and it should make my hair smell nice.