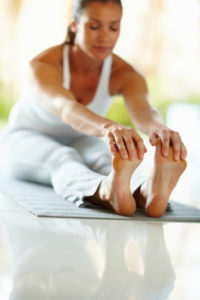 Like many people, I once thought of Yoga only as a form of exercise.  The first yoga class I attended was about 20 years ago (wow) and it was one of those hot yoga classes where they turn the heat up and you sweat a great deal.  It was a very large class and I had no idea what I was doing.  I went a few times and then lost interest in it.
Many years later (I am guessing around 10 years) I began practicing yoga via a 30-minute yoga show on cable TV.  I noticed that my days seemed to flow much better when I did yoga in the morning.  However, I went through some big life changes and stopped my yoga routine.
Another 6 years or so went by and I began studying herbs under local acupuncturist and herbalist Bob Linde.  He learned that I was struggling with pain in my hip joint and referred me to St Petersburg Yoga.  It turns out that I went to high school with the founder, Chris Acosta, whom I hadn't seen since graduating (a LONG time ago <wink>).
When Chris learned that I was teaching people how to use herbs to heal themselves, he was very interested in including these workshops in his Yogi Teacher Training curriculum.  However, he was not able to do this unless I was at least working toward becoming a yoga instructor myself.  I had, for some time, wanted to delve more into the practice of yoga and felt that this was a great opportunity to do it, so I signed up.
Why am I telling you this story? Because the Yogi Teacher Training program at St Petersburg Yoga was an amazing personal journey for me and I want to sing its praises to anyone who will listen.  When I started the program I had no intention of teaching yoga.  I did it for personal enrichment.  I had no idea how "enriching" it would be for my life. Not only did I learn that yoga is much more than physical exercise, but it is an eye-opening path to self-awareness and acceptance.
A quote from their brochure explains "The Teacher Training program is not just for future teachers.  In fact, most of our graduates fundamentally want to use yoga to self-explore and actually direct their own transformation.  The 15 Yogis at St. Petersburg Yoga will show you how to meet yourself exactly where you are and take you where you want to go.  Join us in the whole expression of Body, Breath, Mind & Spirit Yoga in a journey of Self-knowledge".
If you are drawn to yoga and are interested in learning more about yourself, I urge you to consider the teacher training program at St Petersburg Yoga.  You can find curriculum info, schedule and pricing on their website as well as the necessary forms to apply to the program.
Don't just take it from me.  Here is a quote from another graduate of the program "Two big words that come up for me are self-acceptance and trust.  I have learned to accept myself and everyone else around me far more easily than before.  I am less judgmental of others and myself.  I truly trust my process and path.  The St. Petersburg Yoga Teacher Training has been a transformational journey."
After completing my training last winter, I realized that this training had blessed me with yet another way to teach people natural ways to heal themselves.  I began teaching restorative yoga classes this past June (Wednesdays 9:30-10:45am, guess where?). I cannot find the words to express the gratitude that I feel for the personal growth I have experienced and the opportunities that this growth has afforded me.
The next program starts in January.  Even if you are only remotely interested, please contact them to discuss the programs they offer.
Oh, and by the way, I am teaching a workshop there this Sunday, November 4th, 1-4pm, "Using Herbs As Medicine" Visit the Workshops page at www.StPeteYoga.com for more info and to register or call 727.894.YOGA
Do you live in Tampa?  Starting Wednesday, Nov 7th, 6-7pm I will be teaching a Restorative Yoga class out of the Collegiate Cleaning store located at 4323 W Kennedy Blvd .  $12/class or 4 classes for $40 (paid in advance). Get more info and sign up here.